Highest Nicotine Disposable Vapes: Top Picks for Satisfying Cravings
Disposable vapes have gained popularity among users seeking a compact and convenient alternative to traditional e-cigarettes. These devices are designed to be discarded after the e-liquid runs out, usually containing high nicotine concentrations and an assortment of flavors that appeal to a broad range of consumers, including young adults 1. Although these products provide a hassle-free vaping experience, concerns around their nicotine content and potential health risks have risen.
One of the challenges faced by users of disposable vapes is comprehending the nicotine concentrations displayed on product labels. Often, these labels are presented in mg/ml or percentage nicotine, which can lead to confusion and unintentionally high nicotine consumption 2. As a result, understanding the differences between various disposable vapes in terms of their nicotine concentrations is crucial for users to make informed decisions and minimize potential health risks.
In recent years, the market has seen an increase in the availability of high nicotine disposable vapes. These products cater to users seeking a satisfactorily strong hit, and also to those attempting to quit traditional cigarettes by relying on nicotine replacement. However, it's essential that the vaping community remains aware of the potential risks associated with high nicotine consumption, as they navigate the ever-growing landscape of disposable vaping devices.
NEW CUSTOMER DISCOUNT
Save 15%
15% OFF YOUR ENTIRE ORDER FOR NEW CUSTOMERS USE CODE WELCOME15!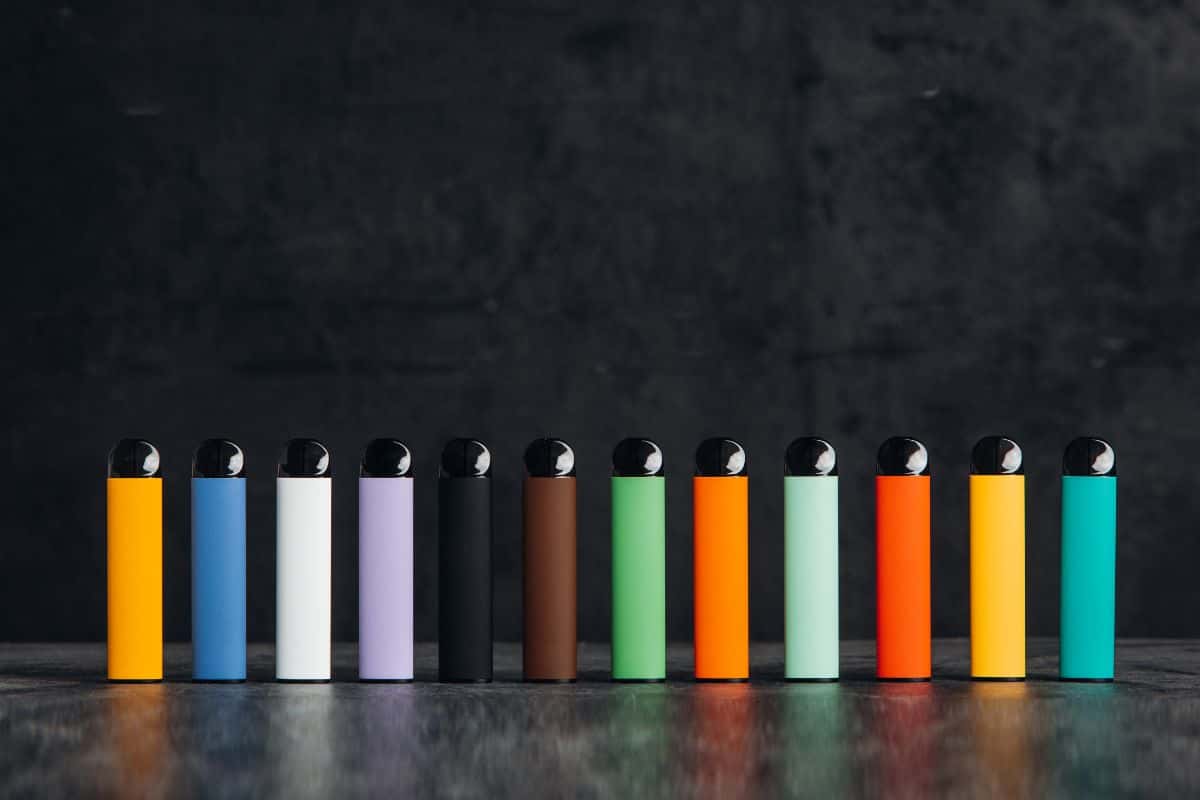 Understanding Nicotine Content
When it comes to disposable vapes, it is important to understand the nicotine content they contain. Nicotine is a highly addictive chemical found in tobacco products, and it can also be present in varying concentrations in disposable vapes. Typically, the nicotine content in these devices is either measured in milligrams per milliliter (mg/ml) or as a percentage of nicotine.
One type of nicotine found in vapes is salt nic, which is derived from nicotine salts. Salt nic offers a smoother throat hit and a more rapid absorption of nicotine into the bloodstream compared to traditional freebase nicotine. Due to its efficient delivery, salt nic is popular in disposable vapes, providing a satisfying experience to users.
As for determining the appropriate nicotine content for an individual, it is essential to consider personal preferences and experience with vaping. Beginners might start with lower concentrations, while more experienced vapers might opt for higher nicotine content. The key is to find the right level that works for each person, allowing them to enjoy vaping without consuming excessive nicotine.
| Nicotine Concentration (mg/mL) | Description |
| --- | --- |
| 0 mg/mL | Nicotine-free. No nicotine content in the vape juice. |
| 3 mg/mL | Low nicotine. Suitable for light or occasional smokers. |
| 6 mg/mL | Low to moderate nicotine. Suitable for light to moderate smokers. |
| 12 mg/mL | Moderate nicotine. Suitable for regular smokers. |
| 18 mg/mL | Moderate to high nicotine. Suitable for heavy smokers. |
| 24 mg/mL | High nicotine. Suitable for very heavy smokers. |
| 36 mg/mL | Very high nicotine. Suitable for extremely heavy smokers. |
| 50 mg/mL (and above) | Extremely high nicotine. Typically found in nicotine salt formulations, which provide a smoother vaping experience at high concentrations. |
For those interested in learning how to detox from nicotine, effective methods can be found in this expert guide. It offers valuable insights on how to quickly remove nicotine from the body.
Additionally, understanding the vaping withdrawal timeline can be useful for those who are considering quitting vaping. It provides an overview of what to expect during the process, which can be a helpful resource when planning to reduce or eliminate nicotine consumption altogether.
In summary, understanding the nicotine content in disposable vapes, including salt nic variations, is crucial for making informed choices about vaping. Users should consider their personal preferences and experience when selecting a device with the right nicotine level, and when necessary, they can also refer to resources for detoxing and withdrawal assistance.
Top Highest Nicotine Disposable Vapes
Disposable vapes offer a convenient and portable solution for vapers who want a hassle-free experience. The best disposable vapes come in various nicotine levels and flavors, catering to the preferences of different users. Among these disposable vapes, there are a few standouts that deliver higher nicotine levels for users who crave a stronger nicotine hit.
The Funky Republic Ti7000 Disposable Vape brings together a potent combination of long-lasting battery life, significant e-liquid capacity, and high nicotine concentration. With its built-in 600mAh rechargeable battery and a 17mL e-liquid capacity, the Ti7000 offers up to 7000 puffs per device. Its digital screen display also sets it apart from its competitors.
Another top contender is the Elf Bar Airo Max 5000 Puffs Disposable Vape. This device shines with its sleek design and ease of use, making it a popular choice among disposable vape pen users. It has incorporated the convenient features of a vape pen with the ease and simplicity of disposable e-cigs.
Moreover, the Esco Bars Ripe Collection 5000 Disposable Vape offers a variety of fruity flavors in their Ripe Collection for a satisfying vaping experience. Equipped with a rechargeable 600mAh battery, this disposable vape device houses 12mL of salt nicotine e-liquid and guarantees up to 5000 puffs.
The Elf Bar BC5000 ULTRA Disposable Vape is also worth considering for its attractive design and impressive nicotine strength of 5%. This device gives users a balance of satisfying nicotine enjoyment and ample 5000 puffs lifespan with each purchase.
Lastly, the Lost Mary OS5000 Disposable Vape offers a collaboration between Lost Mary and Elf Bar, providing up to 5000 puffs in a single-use device. Featuring a 5% nicotine strength and 13mL of nicotine salt eJuice, this disposable vape pen delivers a satisfactory and smooth vaping experience.
In conclusion, disposable vapes continue to evolve, offering various types and different nicotine strengths to cater to a wide range of users. Users seeking high nicotine concentrations can choose among the top highest nicotine disposable vapes listed above to satisfy their cravings in a portable and low-maintenance device.
The Role of Battery and Capacity
When it comes to vaping, battery life and capacity are crucial factors to consider. A high-capacity battery ensures efficient nicotine delivery and a powerful vaping experience. Typically, rechargeable batteries are preferred for their sustainability and cost-effectiveness.
There are various battery capacities available on the market, such as the 650mAh and 500mAh options. A 650mAh battery often provides longer battery life and consistent voltage output, allowing users to enjoy uninterrupted vaping sessions. On the other hand, a 500mAh battery might be more suitable for those looking for a lighter and more compact vaping device.
Disposable vape devices, despite their convenience and lower initial cost, may not offer the same level of battery performance as their rechargeable counterparts. This could lead to a less satisfying vaping experience, particularly if the disposable device is not capable of delivering adequate nicotine levels. To combat this issue, vapers can explore vape mods that provide powerful batteries, larger e-liquid capacities, and customizable vaping settings.
For individuals who prefer cartridge-based systems, using a 510 thread battery can offer compatibility with a wide range of vape cartridges. This flexibility allows users to experiment with different nicotine strengths, flavors, and even compatible CBD or THC cartridges. Moreover, having a reliable 510 thread charger ensures that the vaping device is ready for use whenever needed.
In conclusion, for an optimal vaping experience centered on high nicotine disposables, it is essential to consider battery life, capacity, and compatibility, alongside the choice of rechargeable or disposable devices. Investing in a device like the Yocan UNI Pro Universal Box Mod Kit could offer vapers an excellent combination of power and versatility, ensuring satisfaction at each use.
Flavors and E-Liquid Options
In the world of disposable vapes, flavors and e-liquid options play a significant role in customer satisfaction. With an array of delicious flavors available, users can find the perfect taste to match their preferences. Some popular options include fruity flavors such as grape, strawberry banana, and peach ice, as well as more unique combinations like watermelon ice, pina colada, and mango peach.
Furthermore, there are many creative flavor offerings that cater to those with a more adventurous palate. For instance, blue razz ice, sakura grape, and sour apple are great options for those who enjoy a mix of sweet and tangy notes. Sweet tooths can find satisfaction in cotton candy, peach mango, and even strawberry ice cream flavors. Meanwhile, those who crave bold and distinct flavors might opt for grape energy, lush ice, or kiwi passionfruit guava.
| Flavor Category | Example Flavors |
| --- | --- |
| Fruit | Strawberry, Blueberry, Mango, Apple, Watermelon, Pineapple |
| Dessert | Vanilla Custard, Chocolate Cake, Caramel Cheesecake, Lemon Tart |
| Menthol/Mint | Peppermint, Spearmint, Menthol Ice, Cool Mint |
| Beverage | Coffee, Cola, Lemonade, Tea, Energy Drink |
| Tobacco | Classic Tobacco, Turkish Blend, Menthol Tobacco |
| Candy/Sweets | Bubblegum, Cotton Candy, Gummy Bears, Sour Patch Kids |
| Bakery | Sugar Cookie, Donut, Cupcake, Cinnamon Roll |
| Nutty | Almond, Peanut Butter, Hazelnut, Pistachio |
| Creamy | Vanilla Cream, Whipped Cream, Custard, Ice Cream |
| Spice/Herb | Cinnamon, Clove, Ginger, Mint Leaves |
| Floral | Rose, Lavender, Hibiscus, Jasmine |
| Savory | Bacon, Cheese, Pizza, Buttered Popcorn |
| Citrus | Lemon, Orange, Lime, Grapefruit |
Some disposable vapes also cater to fans of classic and traditional tastes like cranberry grape, red mojito, and sweet menthol. For customers who prefer a more refreshing experience, flavors such as watermelon bubblegum, lemon mint, and strawberry kiwi are ideal choices. Other unique options include pineapple coconut, peach mango watermelon, mint twists, and aloe grape.
More mature tastes can be satisfied with flavors like vanilla cream tobacco and watermelon lychee. For a well-rounded and innovative flavor profile, kiwi passionfruit guava and fruit slushie are interesting picks that combine multiple fruit essences to create a delightful vaping experience. Finally, blueberry ice offers a cool and revitalizing sensation for those seeking a crisp and invigorating flavor adventure.
All of these flavor options are enhanced by varying nicotine levels, catering to different preferences and needs of users. Some of the best CBD gummies also offer a potent solution for anxiety relief while providing irresistible taste experiences. The diverse flavors and e-liquid options in disposable vapes allow users a unique, enjoyable, and customized vaping journey.
How to Use a Disposable Vape Pen
Using a disposable vape pen is an easy and convenient way to enjoy vaping, especially for those who are new to the experience. Disposable vapes come pre-filled with e-juice and do not require any maintenance or refilling. To start using a disposable vape, simply follow these steps.
First, remove the vape pen from its packaging. Some disposable vapes, like the Hyde Rebel Pro 5000 Puffs Disposable Vape, come with a protective seal or a rubber stopper that needs to be removed before using the device. Make sure to dispose of the packaging and any protective materials responsibly.
Next, hold the disposable vape pen comfortably in your hand and put the mouthpiece to your lips. Since disposable vape pens are draw-activated, you don't need to press any buttons to start vaping. Gently inhale through the mouthpiece and experience the vapor as it fills your mouth and lungs. The vapor should taste smooth and flavorful due to the pre-filled e-juice found in models such as the SMOK Novo Bar AL6000 Disposable Vape and the Flum Pebble 6000 Puffs Disposable Vape.
When using a disposable vape pen, it's essential to keep a moderate pace when inhaling. Taking slow, steady puffs will help ensure that you get the most out of the vaping experience without overwhelming your senses. It is vital to note that most disposable vapes come with a high nicotine concentration, typically around 5% (as seen in the Flum Pebble 6000).
As you continue using your disposable vape pen, monitor its performance and flavor. A decrease in vapor production or a difference in the flavor may indicate that the device is running out of e-juice. Once you have used up the pre-filled e-juice, simply dispose of the vape pen as per the manufacturer's instructions or local regulations.
In summary, using a disposable vape pen is a straightforward process that involves removing the protective seal, inhaling through the mouthpiece, and enjoying the vapor produced by the pre-filled e-juice. It requires no button pressing or maintenance, making it a hassle-free vaping option for both beginners and experienced users alike.
Global Market: USA, UK and Europe
The global market for disposable vapes is dominated by three main regions: the United States, United Kingdom, and Europe. The US reportedly has the largest nicotine vaping product market in the world, followed by Western Europe, led by the UK.
| Rank | Country |
| --- | --- |
| 1 | United States |
| 2 | United Kingdom |
| 3 | Canada |
| 4 | France |
| 5 | Germany |
| 6 | Russia |
| 7 | Australia |
| 8 | Japan |
| 9 | South Korea |
| 10 | Italy |
In the US, disposable e-cigarettes have gained popularity due to their convenience and portability. Many brands offer a wide range of flavors and nicotine strengths, catering to the preferences of different consumers. Popular disposable vape brands in the US include Puff Bar, Hyde, and Caliburn, among others.
Meanwhile, in the United Kingdom, disposable vapes have experienced rapid growth among young adults from 2021 to 2022. Typically, these products retail for approximately £5–7 (US $7–9) and contain high-strength nicotine salts e-liquid (20 mg/ml). One reason for their increasing popularity is their affordability, as they offer an inexpensive alternative to traditional tobacco products while still providing a satisfactory nicotine experience.
Within Europe, the market for disposable vapes varies across different countries. Some countries have adopted stricter regulations on nicotine vaping products, limiting the available flavors and nicotine levels. Despite these regulatory differences, the popularity of disposable vapes remains strong overall.
Throughout the global market, the innovation and variety in disposable vapes have driven their success. Featuring diverse flavors, nicotine strengths, and compact designs, these products appeal to a wide range of consumers looking for a convenient and satisfying nicotine experience. However, the continued growth of disposable vapes raises concerns about their environmental impact, as seen in the increase of disposable vaping products worldwide.
The disposable vape market in the USA, UK, and Europe clearly illustrates how consumer preferences and regional regulations shape the industry, leading to a constantly evolving landscape that caters to diverse users.
Understanding Performance and Build Quality
When considering the performance of disposable vapes, it is essential to take into account the amount of clouds they produce and their build quality. High-quality disposable vapes, such as the Mr. Fog Switch SW5500, offer approximately 5500 puffs with an integrated 650mAh battery and a 5% synthetic nicotine strength. These features contribute to better performance and satisfaction for users.
However, disposable vapes may not have the same level of build quality and performance as more advanced devices like mods. Mods typically allow for more mod-like control, giving users the ability to adjust settings to their preferences. This leads to denser clouds and a more personalized experience. Although disposable vapes may not offer these options, they often come in a sleek design and are a convenient alternative for users who prefer a more straightforward device without the complications of a refillable option or various settings.
Another factor to consider is the availability of vape pens, which also offer portability and ease of use, while providing an intermediate level of performance. Vape pens can bridge the gap between basic disposable vapes and advanced mods by offering additional customization options and better overall performance.
To ensure the safety and longevity of your disposable vape, proper storage is crucial. Invest in a good-quality vape case to protect your device from damage and to keep it organized. This helps in extending the life of the vaporizer and allows users to maintain its optimal performance.
In conclusion, disposable vapes such as the Hyde IQ 5000 offer convenience and ease of use, although they may not provide the same level of performance, customization, or build quality as mods and vape pens. Understanding the differences between these devices is vital in choosing the best option for one's vaping preferences.
Longevity and Number of Puffs
Disposable vapes are popular due to their convenience and ease of use. One important aspect to consider when choosing a disposable vape is its longevity. Longevity depends on the number of puffs a disposable vape can provide before running out. Some devices offer 5000 puffs or more, making them a practical choice for vapers who require a lasting experience.
A disposable vape with a higher puff count often has an increased battery capacity and e-liquid volume. For example, the Wavetec Wave 8000 boasts a substantial 50mg nicotine strength and 18mL pre-filled e-juice capacity, allowing it to last for 8000 puffs. Similarly, Brixz Bar 9000 offers 9000 puffs with a 5% nicotine strength and a sizable 130mL capacity.
Other disposable vapes like the Esco Bars Mesh 6000 provide an exceptional balance between power and flavor. This rechargeable disposable vape manages to deliver up to 6000 puffs with its 5% nicotine strength e-liquid and Mesh technology.
For vapers who prefer a longer-lasting option without the hassle of charging or refilling, 7000 puff disposable vapes are available. These devices are engineered to provide extended satisfaction while maintaining their convenience and portability.
In conclusion, the longevity and number of puffs in a disposable vape vary depending on factors such as battery capacity, e-liquid volume, and design. Vapers should consider their individual preferences and needs when selecting a disposable vape that suits their lifestyle.
Browse popular vape collections:
Frequently Asked Questions
What are the top disposable vapes with high nicotine levels?
There are several disposable vapes on the market designed to deliver a satisfying nicotine experience. The Best Disposable Vape list features top-rated disposable e-cigarettes that offer various levels of high nicotine content. Each device has its unique selling points, so it's essential to choose the one that best suits your preferences and lifestyle.
Which disposable vapes have the longest-lasting performance?
The longevity of disposable vape devices depends on factors such as battery life and e-liquid capacity. Some models tend to last longer than others. When browsing for a reliable vaping device, consider those with larger batteries and higher e-liquid capacities. Many of the top-rated disposable vape systems mentioned in the previous answer feature long-lasting performance, making them ideal choices for vapers who need a dependable option.
Which disposable vapes are considered the safest?
Safety is a crucial aspect when choosing disposable vapes. Ensure that the product complies with industry safety standards, incorporates tamper-resistant designs, and utilizes quality materials. Additionally, transparency regarding the manufacturing process and lab-testing results are essential indicators of a reliable and safe product. Always stick to reputable brands and retailers to ensure you're investing in a safe vaping experience.
What are the best flavors for disposable vapes?
Disposable vapes come in a wide variety of flavors to cater to different preferences. From fruity notes to creamy desserts and classic tobacco blends, the taste possibilities are virtually endless. It's essential to explore various flavor options to find the ones that speak to your unique palate. Many of the top disposable vapes, such as the ones highlighted in the Best Disposable Vape list, offer a range of exciting flavor profiles to suit every preference.
Are there any reputable brands with high nicotine disposable vapes?
Yes, many reputable brands offer high nicotine disposable vaping devices. Companies like Funky Republic are known for their quality, performance, and variety of products, including portable vapes with high nicotine levels. You can also save money on Funky Republic products by using Funky Republic Coupon Codes during your purchase.
What new disposable vapes are available in 2023?
The vaping market is continually evolving, and new devices are being introduced regularly. To keep up with the latest vaping trends and innovations, monitor industry news and follow the top manufacturers for updates on their product offerings, such as the ELF Bar Coupon Codes, which can help you save money on new, premium vaping products.
Footnotes