Best Disposable Vapes That Taste Like Marlboro: Top Alternatives for Smokers
The world of vaping has evolved significantly over the years, as more and more individuals prefer e-cigarettes as a potential alternative to conventional tobacco products. Disposable vapes are gaining popularity due to their convenience, affordability, and ease of use. For those who appreciate the taste of traditional Marlboro cigarettes, finding the best disposable vapes that offer a similar flavor experience can be a top priority.
Vaping provides a unique experience compared to traditional cigarette smoking and allows users to customize their preferences by choosing different flavors, nicotine levels, and devices. Disposable vapes, in particular, have been designed for those who want a hassle-free option that closely mimics the sensation of smoking, without the need for charging, refilling, or maintaining a vape device. Several disposable vape brands have come up with flavors that satisfy the cravings of Marlboro cigarette fans.
In this article, we will be focusing on some of the best disposable vapes known for delivering a taste reminiscent of Marlboro cigarettes. The goal is to assist in streamlining your search for the perfect vape that delivers not only convenience and simplicity but also the classic, satisfying taste that many have come to love from Marlboro products. This way, you can make a well-informed decision and enjoy the vaping experience that best suits your preferences.
NEW CUSTOMER DISCOUNT
Save 15%
15% OFF YOUR ENTIRE ORDER FOR NEW CUSTOMERS USE CODE WELCOME15!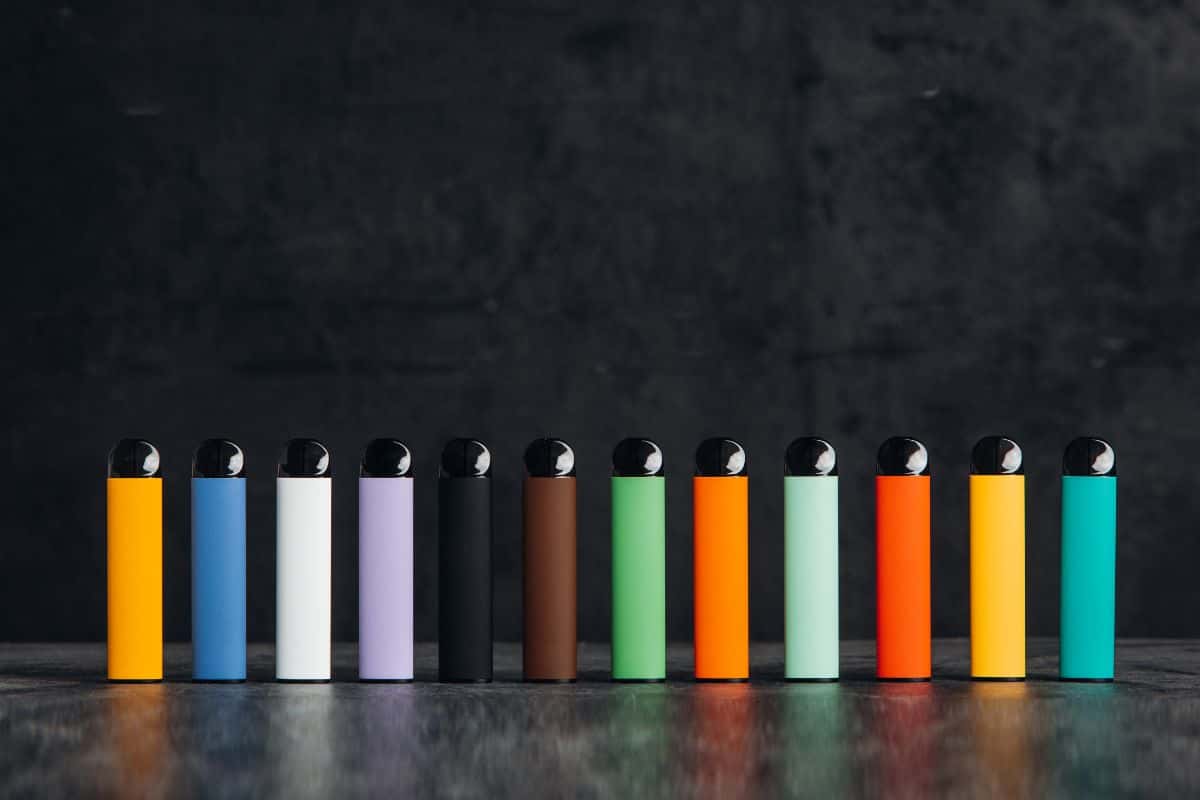 Understanding Disposable Vapes
Disposable vapes have gained popularity in recent years due to their convenience and variety of flavors. These devices are typically small, lightweight, and come pre-filled with e-liquid, making them an easy option for people looking for a hassle-free vaping experience. Many users turn to disposable vape pens because they are draw-activated and require no charging or maintenance.
One of the main benefits of disposable vapes is their simplicity. There's no need to worry about charging cables, as most do not have a USB-C port. With a disposable e-cig, users can enjoy a nicotine-delivery system without the added complexities of traditional e-cigarettes. Some prefer these disposables for their compact design, which resembles the shape and feel of a traditional cigarette more closely.
Various types of disposable vapes are available on the market. They differ in design, nicotine strength, and flavors offered. Pod mods are an example of a disposable e-cigarette that features a more advanced design, incorporating features like adjustable voltage and customizable settings.
When it comes to flavors, disposable vapes offer a vast range of options. Aside from traditional tobacco tastes, such as those resembling Marlboro cigarettes, there is also an assortment of fruit, candy, and dessert-inspired flavors. These nicotine salt e-liquid flavors are formulated to offer smooth, satisfying draws.
For users seeking an authentic Marlboro-like taste, it is crucial to research online retailers and experiment with different brands of disposable vapes. Some disposable e-cigarettes might closely replicate that iconic taste, while others may offer a more general tobacco flavor. In the end, finding the ideal Marlboro-like disposable vape will depend on personal preference and a willingness to explore different options.
In summary, disposable vapes cater to users looking for convenience, simplicity, and flavor variety. With their compact, draw-activated designs and diverse flavor options, they become an attractive alternative to traditional tobacco cigarettes and even more sophisticated vape devices. Those searching for the perfect Marlboro-like taste should explore disposable vape pens to discover the ideal option for their needs.
Types of Disposable Vapes
| Type of Disposable Vape | Description |
| --- | --- |
| Disposable E-Cigarettes | These resemble traditional cigarettes in shape and size. They are often marketed to smokers looking for a familiar experience. |
| Disposable Vape Pens | Slim, pen-like devices that are easy to carry and use. They come in various flavors and nicotine strengths. |
| Disposable Pod Systems | Compact devices that use pre-filled pods or cartridges. They offer a user-friendly experience with no refilling required. |
| Disposable Mini Vapes | Extremely compact and discreet vapes, often designed to resemble USB drives or other everyday objects. |
| Disposable Nicotine Salt Vapes | These disposable vapes use nicotine salts, which provide a smoother throat hit and faster nicotine absorption compared to freebase nicotine. |
| Disposable CBD Vapes | Specifically designed for vaping CBD e-liquids or extracts, offering a convenient way to consume cannabidiol. |
| Disposable THC Vapes | Designed for vaping tetrahydrocannabinol (THC), the psychoactive compound in cannabis. These are often found in regions with legalized recreational cannabis. |
| Disposable Flavored Vapes | Known for their variety of flavors, including fruit, dessert, menthol, and more. These cater to users who prefer flavored options. |
| Disposable High-Nicotine Vapes | Typically contain higher nicotine levels, suitable for those seeking a strong nicotine hit. |
| Disposable Low-Nicotine Vapes | Contain lower nicotine levels, often marketed to those looking to reduce their nicotine intake. |
| Disposable Zero-Nicotine Vapes | Designed for individuals who enjoy vaping but do not want any nicotine in their e-cigarettes. |
| Disposable Vapes with Nicotine Alternatives | Some disposables use alternatives to nicotine, such as herbal extracts or vitamins, for a unique experience. |
In the world of disposable vapes, there are several different types to choose from. Knowing the differences between them can help you find the perfect match for your preferences and needs. One of the main categories is standard disposables. These are single-use devices that come pre-filled with e-liquid, are easy to use, and typically have a limited number of puffs before they need to be discarded. This type of disposable vape is a great option for those who want a simple, no-fuss vaping experience.
On the other hand, rechargeable disposables offer a bit more longevity and can be used for a greater number of puffs before they need to be replaced. These devices come equipped with a rechargeable battery, allowing users to extend their vaping session if desired. The Esco Bars Ripe Collection 5000 Disposable Vape, for instance, has a rechargeable 600mAh battery and is rated for 5000 puffs. While still considered disposable, the option to recharge provides flexibility for those who want more than just a single-use experience.
As vaping technology continues to evolve, new types of disposable vapes are hitting the market. Vapes Super Store constantly updates its collection with the latest devices, ensuring users have the latest offerings to choose from and experience new flavors and features.
Some disposable vapes focus on packing in more puffs per device, like the Hyde Rebel Pro 5000 Puffs Disposable Vape, which features a rechargeable battery and boasts 5000 puffs of mango, peaches, and cream flavor. Others, like the Mr. Fog Switch SW5500 Disposables, offer multiple flavors in a single device. With these, users can switch between different flavors for an even more enjoyable vaping experience.
In conclusion, different types of disposable vapes cater to various preferences and desires. From standard disposables to rechargeable disposables, each device provides a unique vaping journey. When looking for a disposable vape that tastes like Marlboro, it's essential to explore different options to find the perfect match that ensures a satisfying experience.
Key Features of Disposable Vapes
Disposable vapes are a popular alternative to traditional cigarettes, especially for those looking for a vaping experience with a similar taste to Marlboro. They offer several key features that make them attractive to users, such as convenience and ease of use.
One important aspect of disposable vapes is their battery life. Many models come with built-in batteries that provide a good amount of usage before needing to be discarded. For instance, the Wavetec Wave 8000 Puff Disposable Vape boasts an impressive 8000 puffs per device, ensuring that users have plenty of time to enjoy their desired flavors.
Adjustable airflow is another feature that is found in some disposable vapes, allowing users to customize their vaping experience. This feature can range from simple air holes that can be covered with a finger to more advanced systems with adjustable dials or sliders.
Durability is an important consideration as well. A robust design ensures that the vape can withstand daily use without falling apart. For example, the VAPECLUTCH Vape Case is designed to protect vapes from drops and other everyday accidents, increasing their lifespan.
When it comes to e-liquid, disposable vapes usually come pre-filled with a variety of flavors and nicotine strengths. This makes it easy for users to try out different tastes without committing to a single flavor. Some devices even offer nicotine-free options for those who wish to avoid nicotine altogether.
The coil and mouthpiece are also essential components of a disposable vape. Coils heat the e-liquid, turning it into vapor, while the mouthpiece is where the vapor is inhaled. These parts should be made of high-quality materials, ensuring a consistent and enjoyable vaping experience.
While most disposable vapes are designed to be single-use, certain models are rechargeable. This feature allows users to continue using the device after the battery has been drained, providing additional convenience and extended life.
In conclusion, the key features of disposable vapes that taste like Marlboro include a good battery life, adjustable airflow, durability, pre-filled e-liquid, high-quality coil and mouthpiece, and rechargeable options. By considering these aspects when choosing a disposable vape, users can enjoy a satisfying and satisfying vaping experience that closely resembles their favorite cigarette brand.
Amazing Flavor Options
| Flavor | Description |
| --- | --- |
| Tobacco | Classic tobacco flavor for a traditional taste. |
| Menthol | Refreshing minty flavor with a cool sensation. |
| Fruit Medley | A blend of various fruity flavors. |
| Dessert | Sweet and indulgent dessert-inspired flavors. |
| Mint | Pure and strong mint flavor for a fresh hit. |
| Citrus | Tangy and zesty citrus fruit notes. |
| Berry | Sweet and tart berry combinations. |
| Tropical | Exotic fruit mix with a tropical twist. |
| Caramel | Rich and creamy caramelized sugar taste. |
| Coffee | Robust coffee flavor, often with a hint of cream. |
| Chocolate | Smooth and decadent chocolate undertones. |
| Vanilla | Creamy and sweet vanilla bean flavor. |
| Coconut | Tropical coconut flavor, often with creaminess. |
| Custard | Silky custard with hints of vanilla or fruit. |
| Nuts | Nutty flavors like almond, hazelnut, or peanut. |
| Floral | Flowery and aromatic flavors, like lavender. |
| Spice | Spicy and warm flavors, such as cinnamon or clove. |
| Soda | Soda-pop inspired flavors like cola or root beer. |
| Ice Cream | Creamy and cold ice cream flavors. |
| Breakfast | Cereal, pancake, or waffle-inspired flavors. |
| Beverage | Drinks like iced tea, lemonade, or energy drinks. |
| Candy | Sweet and fruity candy-inspired flavors. |
| Mixed Berries | A combination of different berry flavors. |
| Apple | Crisp and sweet apple varieties. |
| Watermelon | Juicy and refreshing watermelon taste. |
| Honey | Sweet and natural honey flavor. |
| Cola | Classic cola flavor with a fizzy sensation. |
| Pina Colada | Tropical mix of pineapple and coconut. |
| Bubblegum | Sweet and nostalgic bubblegum taste. |
| Champagne | Effervescent and celebratory champagne notes. |
| Peanut Butter | Rich and nutty peanut butter flavor. |
| Lemonade | Tart and zesty lemonade-inspired flavors. |
| Gummy Bear | Sweet and fruity gummy bear flavors. |
| Cheesecake | Creamy and indulgent cheesecake taste. |
| Blueberry | Sweet and tangy blueberry flavors. |
| Mango | Tropical and sweet mango notes. |
| Peach | Juicy and ripe peach flavor. |
When it comes to disposable vapes, a wide variety of amazing flavor options are available. The selection of flavors can make the vaping experience more enjoyable and cater to different tastes. A popular choice among vapers seeking a Marlboro-like taste is the vanilla cream tobacco flavor, which provides a smooth and satisfying experience.
Fruity flavors also dominate the disposable vape market. Some of the most popular fruity options include blueberry, grape, pina colada, peach mango, rainbow, strawberry banana, and strawberry ice cream. These flavors provide a refreshing, tasty experience for vapers looking to steer clear of traditional tobacco flavors. Another fruity option that receives high praise is the blue razz flavor, offering a sweet and tangy taste that pleases the palate.
There is no shortage of exotic and unique flavor combinations in the world of disposable vapes. Options like kiwi passionfruit guava, cranberry grape, red mojito, energy, sweet menthol, and watermelon bubblegum can cater to adventurous vapers seeking something different and exciting. With lemon mint, sour apple, pineapple coconut, peach mango watermelon, mint twists, and aloe grape also available, there is a flavor for every preference.
Many disposable vapes use nicotine salt e-juice, which ensures a satisfying and smooth vaping experience even when using high nicotine strengths. Some popular disposable vape brands, like Nic Bar, offer a vast variety of flavor choices to suit the preferences of a wide range of vapers. Whether you prefer classic tobacco flavors or you enjoy more exotic choices, the world of disposable vapes has something to offer everyone.
Optimal Battery Functioning
Disposable vapes that taste like Marlboro require optimal battery functioning for the best overall experience. The battery plays a crucial role in maintaining consistent vape performance and ensuring that the device lasts as long as intended. High-quality rechargeable batteries can be found at various online stores like the Vapes Super Store. Many disposable vapes use a 510-thread battery, which is known for its compatibility with a wide range of vaping devices.
A good disposable vape should have a reliable battery life, enabling users to enjoy their device without constant worries about recharging. Most disposable vapes come with pre-charged batteries, and some even have a charging port that allows for recharging during use. Keep in mind that this feature varies by brand and model, so it's important to check the product specifications before purchasing.
To properly care for your vape's battery and ensure optimal functioning, follow these tips:
Keep the battery clean: Regularly inspect the battery and charging port, gently removing any debris or buildup.
Be mindful of temperature: Avoid leaving the vape in extreme temperatures, as this can negatively impact the battery's performance.
Use the correct charger: If your disposable vape has a charging port, use the designated 510-thread charger, such as the Universal 510 Thread Battery USB Charger with Cord, to prevent any potential damage.
Monitor usage: Should the battery show signs of wear or decreased performance, consider replacing your device or investing in a rechargeable vape option.
By following these guidelines, users can maintain optimal battery functioning in their disposable vapes that taste like Marlboro, ensuring a satisfying experience throughout the device's lifespan.
Benefiting from Disposable Vapes
Disposable vapes that taste like Marlboro can provide users with a familiar flavor while offering several benefits. One major advantage is their convenience, as these devices don't require any charging or refilling, making them perfect for on-the-go vaping. With advanced models, users can experience extensive satisfaction with 5000 puff disposable vapes and even 7000 puff disposable vapes, ensuring a lasting and hassle-free experience.
Another benefit lies in the use of nicotine salts (nic salts), a type of nicotine found in disposable vapes that closely mimics the sensation of smoking traditional cigarettes. These salts are absorbed quickly by the body, providing an instant and satisfying nicotine hit. This makes disposable vapes particularly suitable for those seeking a Marlboro-like experience without the hazards associated with combustible cigarettes.
Longevity is another attractive feature of disposable vapes. They are designed to last for a particular number of puffs, such as 2500 puffs or even more. The longer-lasting models offer users extended vaping sessions without worrying about battery life, making them an excellent choice for individuals seeking a reliable and fuss-free alternative to conventional smoking.
Overall, disposable vapes that taste like Marlboro offer a range of benefits for users, from convenience and longevity to a satisfying nicotine experience. By making the switch to these devices, smokers can continue enjoying a familiar flavor while reducing their exposure to harmful tobacco smoke.
Key Brands and Best Disposable Vapes
When it comes to finding the best disposable vapes that taste like Marlboro, there are several key brands to consider for satisfying your cravings. One of the top brands in the vaping industry is SMOK, offering a wide selection of products with various flavors that mimic the Marlboro experience.
Another popular brand in the market is Hyde, known for its high-quality vape products. Hyde disposable vapes come in numerous flavors, and some of them may closely resemble the taste of Marlboro cigarettes. Their disposable vapes are convenient and user-friendly when you're on-the-go.
Dazed8 is another brand to explore, as it offers Delta 8 THC products, including vape cartridges, that could potentially cater to Marlboro fans. With a variety of D8 product forms, Dazed8 offers a unique approach to vaping that might satisfy your taste preferences.
For luxury vaping experiences, Vape Clutch offers products that combine style and quality. Although their flavor selection might not align perfectly with the classic Marlboro taste, they still provide a range of enjoyable vaping experiences.
Now, let's dive into some specific disposable vapes that closely replicate the taste of Marlboro. The Elf Bar BC5000 is one option worth considering for its portability and smooth nicotine delivery, making it a top choice among the best disposable vapes resembling Marlboro.
Another recommended option is the Flum Float, with a built-in 1100mAh battery and around 3000 puffs per device. Its strong, satisfying draws and various flavor choices could provide a remarkable Marlboro-like experience.
Zovoo Dragbar B5000 and Lost Mary OS5000 are additional options to explore, as they've gained popularity among Marlboro lovers. These disposable vapes offer consistent and smooth vaping experiences while providing dependable nicotine delivery.
In conclusion, exploring brands such as SMOK, Hyde, Dazed8, and Vape Clutch can lead you to find the ideal disposable vape resembling the Marlboro flavor. Products like Elf Bar BC5000, Flum Float, Zovoo Dragbar B5000, and Lost Mary OS5000 are among the top choices to consider for a satisfying and convenient Marlboro-like vaping experience.
Buying Guidelines for Disposable Vapes
When looking for the best disposable vapes that taste like Marlboro, it's important to consider a few factors to ensure you make the right choice. Here are some buying guidelines to help you navigate your options:
Quality of the vape: Prioritize devices made by reputable manufacturers. High-quality vapes are less prone to malfunctions and provide a consistent vaping experience. Be cautious of low-priced, no-name devices, as they may not meet safety standards or deliver the desired taste.
Flavor selection: While your main goal is to find a taste similar to Marlboro cigarettes, consider vapes that offer an array of flavors. This allows you to explore new vaping experiences and compare different taste profiles. For example, some disposable vapes come in menthol or tobacco flavors, which might cater to your preference for a Marlboro-like taste.
Nicotine strength: Disposable vapes come in a variety of nicotine strengths. Heavy smokers might prefer vapes with higher nicotine concentrations, while casual users may choose lower strengths. Be mindful of selecting a device that meets your nicotine requirements.
Ease of use: A good disposable vape should be user-friendly. Simplicity is key: opt for devices that are easy to operate, require minimal maintenance, and can be disposed of once they are depleted.
Portability and design: Choose a disposable vape that is compact and easy to carry. Discreet designs are ideal for users who want to vape on-the-go without drawing attention.
Cost and availability: Your budget will play a significant role in your decision-making process. Compare the prices of disposable vapes while taking into account quality, flavor selection, and nicotine strength to get the best value for your money.
By keeping these guidelines in mind, you can confidently select a disposable vape that tastes like Marlboro and meets your expectations. Remember that comfort, performance, and taste ultimately determine your vaping satisfaction.
Using and Maintaining Your Disposable Vapes
Disposable vapes are designed for ease of use and convenience, making them a popular choice among those who want a quick and hassle-free vaping experience. To get started, simply remove your disposable vape from its packaging and you're good to go. There is no need for charging or refilling as these devices come pre-filled with e-liquid and have a built-in battery.
When using a disposable vape, it's important to adopt the right drawing technique for optimal satisfaction. Most disposable vapes use a mouth-to-lung (MTL) draw, which involves drawing the vapor into your mouth first and then inhaling it into your lungs. This technique mimics the way people typically smoke cigarettes and can provide a familiar sensation, especially for those trying to replicate the taste of Marlboro cigarettes.
To maximize the lifespan of your disposable vape, try to maintain a consistent puff count. Generally, disposable devices can last anywhere from 200 to 400 puffs, depending on their capacity. By keeping track of your puffs and not overusing the device, you can ensure a longer-lasting and more satisfying experience.
In terms of maintenance, disposable vapes require little effort. Since they are designed for single-use, there is no need to clean or replace any parts. Once the e-liquid runs out or the battery dies, it's time to dispose of the vape and start with a fresh one. Always remember to follow local regulations for proper disposal of electronic waste.
When selecting a disposable vape that tastes like Marlboro, consider factors such as flavor, nicotine strength, and design. Many disposable vapes offer tobacco-flavored options, but be sure to sample different products to find the one that most closely resembles the taste you're looking for.
In conclusion, using and maintaining disposable vapes is a simple and convenient process. By adopting the right drawing technique, monitoring your puff count, and considering flavor options, you can enjoy a satisfying vaping experience that mimics the taste of your favorite Marlboro cigarettes.
Eco-Friendly Disposal of Vapes
Choosing the best disposable vapes that taste like Marlboro is important for many smokers who want to make the switch. However, it's also important to consider the environmental impact of disposable vapes. When it's time to dispose of these devices, we should do so responsibly to reduce waste and pollution.
One of the most effective ways to dispose of disposable vapes in an eco-friendly manner is by using an electronics waste bin. Many cities provide these bins for disposing electronic products, ensuring proper recycling and waste management processes. Drop your used disposable vapes into these bins instead of regular trash cans to minimize their environmental impact.
In addition to using electronics waste bins, it's crucial to be mindful of local recycling regulations. Some locations may require you to separate different parts of the vape, such as batteries and other components, before disposing of them. Make sure you're aware of these guidelines to help further protect the environment.
Finally, don't forget to consider vape manufacturers that are committed to sustainability and responsible waste management. This can include those who offer recycling programs or take-back initiatives for their disposable vaping products. Supporting these efforts will make a positive difference in reducing electronic waste and pollution.
By disposing of disposable vapes in an eco-friendly way, you're not only enjoying a Marlboro-like taste but also helping to preserve the environment for future generations. Remember to use electronics waste bins and follow local recycling regulations when discarding your used vapes.
Frequently Asked Questions
What are the top disposable vapes with a Marlboro-like taste?
There are several top disposable vapes with a Marlboro-like taste that cater to those who prefer the taste of traditional cigarettes. The STIG Disposable Vape comes in a tobacco flavor, which closely resembles the taste of a Marlboro cigarette. Additionally, the Puff Bar Disposable device has a tobacco flavor that many users find reminiscent of Marlboro.
Which disposable vapes mimic the flavor of cigarettes?
Disposable vapes such as the STIG and Puff Bar have achieved excellent flavors that mimic the taste of cigarettes. Other disposable devices like ePuffer Eco, Moti PIIN, and Myle Mini offer satisfying tobacco-flavored options that could closely resemble the classic Marlboro taste. The taste can significantly vary, so it is recommended to try different options to find a suitable vape flavor that meets individual preferences.
Which tobacco-flavored disposable vapes have the closest taste to Marlboro?
The STIG Disposable Vape is widely considered to have the closest taste to Marlboro cigarettes. Additionally, the Puff Bar Disposable's tobacco flavor option has been reported to resemble the taste of Marlboro cigarettes. Choosing the best disposable vape for Marlboro taste depends on personal preferences since individual taste perception may vary.
What are the safest disposable vapes with a Marlboro taste?
To find the safest disposable vapes with a Marlboro taste, it's essential to consider reputable, well-established brands that prioritize quality control and testing standards. Both STIG and Puff Bar Disposable are established brands investing in product safety. It's crucial to purchase disposable vapes from authorized retailers to ensure product authenticity and safety.
Which 0 nicotine disposable vapes have the best tobacco flavor?
While tobacco-flavored vapes are more commonly found with nicotine, there are disposable devices available with zero nicotine. The ePuffer Eco offers a zero nicotine option for those who want a tobacco flavor without any nicotine content. This vape offers a satisfying, tobacco-infused taste without the use of nicotine.
What are the most popular tobacco-flavored disposable vapes in 2023?
In 2023, the most popular disposable tobacco-flavored vapes include the STIG Disposable Vape, Puff Bar Disposable, ePuffer Eco, Moti PIIN, and Myle Mini. These disposable vapes are well-regarded for their enjoyable tobacco flavors that cater to the preferences of traditional cigarette smokers or those making the transition to vaping.