Last updated on September 9th, 2023 at 06:35 am
Denver, the bustling capital of Colorado, is home to an expansive and vibrant vaping community. With the city's diverse and creative atmosphere, it's no surprise that vape enthusiasts can find a plethora of top-notch vape shops offering the latest gear, devices, and e-liquids. Whether you're new to vaping or a seasoned pro, these shops cater to all levels of experience with knowledgeable staff and extensive product selections.
In this article, we showcase some of the top Denver vape shops that have built stellar reputations within the community. These stores offer a wide variety of vaping gear, with the latest devices and accessories to meet the needs of any vaper. Additionally, you can expect to find a vast selection of e-liquid brands and flavors, including popular favorites and locally-crafted options, catering to every palate. Many vape shops in Denver also feature cannabis and CBD products, capitalizing on Colorado's reputation for marijuana and hemp innovation.
Key Takeaways
Top vape shops in Denver offer a wide variety of gear, devices, and e-liquids to cater to all experience levels.
With selections spanning popular brands and locally-crafted options, vapers can find a diverse range of e-liquid flavors.
Many Denver vape shops also feature cannabis and CBD products, reflecting the city's dynamic marijuana and hemp industry.
NEW CUSTOMER DISCOUNT
Save 15%
15% OFF YOUR ENTIRE ORDER FOR NEW CUSTOMERS USE CODE WELCOME15!
Top Denver Vape Shops
Denver, also known as the Mile High City, boasts a variety of vape shops to cater to your vaping needs. In this section, we will discuss some of the best vape shops in Denver and the aspects that set them apart from the rest.
Customer Service and Reviews
One of the top vape shops in Denver is HQ Vape & Smoke, with excellent customer reviews praising their knowledgeable staff and wide selection of products. Similarly, Stone Fox Vape is known for their helpful, friendly staff and willingness to go the extra mile for their customers. Denver Electronic Cigarettes is another highly rated vape shop, receiving positive customer feedback for their extensive product range and consistently great service.
Rewards Program
Many Denver vape shops offer rewards programs to keep their customers coming back. For example, Denver Vapor has a loyalty program that rewards its customers for repeat purchases. By earning points with each purchase, customers can redeem them for discounts on future visits, making it an attractive option for frequent vapers.
Daily Deals
Denver vape shops also understand the importance of keeping their clientele engaged by offering daily deals and specials. The Vape Loft, located on S Broadway in Denver, offers a variety of promotions and deals throughout the week. Check their website for the latest information on their current deals.
In summary, the Denver vape shop scene is thriving, with numerous stores offering exceptional customer service, rewards programs, and enticing daily deals. The Mile High City is an excellent place for vapers to find top-quality products and a welcoming atmosphere.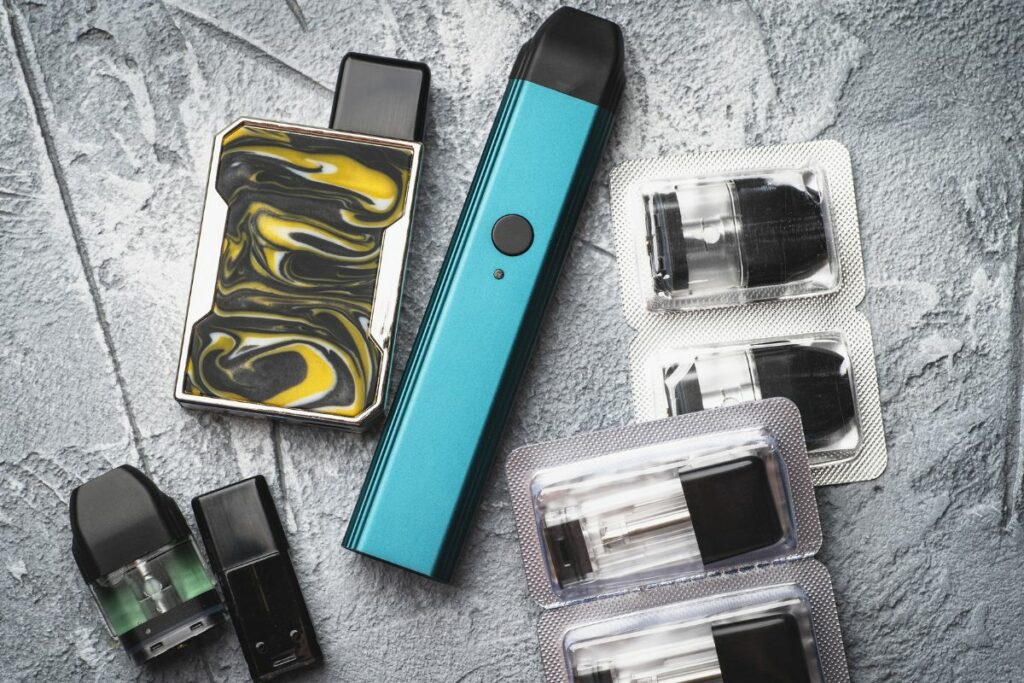 Vape Gear and Devices
When it comes to vaping, finding the right gear and devices is essential for a satisfying experience. Denver is home to several top-notch vape shops that offer a variety of high-quality products to cater to your vaping needs. In this section, we will focus on some of the most popular types of vape gear available in Denver vape shops.
Vape mods are an important component of your vaping experience. The Vape Loft – Denver is a great place to find a selection of mods from trusted brands like SMOK. They offer a variety of box mods for vapers who prefer increased power and customization options, as well as sleek and compact pen-style mods for those on the go.
For vapers who enjoy building their own custom vaping setups, RTAs (rebuildable tank atomizers) and RDAs (rebuildable dripping atomizers) are popular choices. Shops like Denver Vaper provide a range of RTAs and RDAs suitable for both cloud chasers and flavor aficionados.
In addition to mods, vape kits are available at vape shops in Denver. These kits often include a mod, tank or pod system, and sometimes even e-liquid to get you started quickly and easily. Shops like Quick Clouds Vape provide options for beginners as well as experienced vapers looking to upgrade their setup.
If you prefer an even more simplified vaping experience, vape pens and pod systems are a popular choice. Denver vape shops carry a wide variety of these devices, providing options for both mouth-to-lung and direct-to-lung vaping styles. The compact size and ease of use make pens and pods a great choice for those new to vaping or for those who need a convenient vaping solution while on the go.
Vape hardware is another crucial aspect of your vaping experience, and Denver vape shops have plenty of options to offer. From replacement coils and batteries to drip tips and chargers, shops like HQ Vape & Smoke can provide all the necessary components to keep your device functioning at its best.
For the more advanced vapers, mech mods (mechanical mods) are an option for those looking for ultimate control and raw power. These unregulated devices require knowledge of Ohm's law and proper battery safety to be used safely, so it's crucial to do your research before venturing into the world of mechs.
Denver's vape shops are ready to cater to your vaping needs, whether you're just starting or you're an experienced vaper looking to enhance your experience. So visit a local vape shop and explore the vast selection of vape gear and devices available in Denver.
E-Liquid Brands and Flavors
Denver is home to many top-notch vape shops offering a variety of premium e-liquid brands and flavors. A vast collection of popular e-juices and vape juices are available from well-known producers like Juice Head, 7Daze, and Aqua. These e-liquids deliver an exceptional vaping experience and come in several captivating flavors for both cloud chasers and flavor enthusiasts.
For those who seek unique and bold blends, brands such as Air Factory, Beard Vape Co, and Cape Fear are worth exploring. They offer carefully crafted selections that cater to different preferences, including fruity, savory, and dessert-inspired flavors.
Ensuring every vaper finds their perfect match, some renowned e-liquid brands like Cassadaga, Diesel, and Crumbz come with even more exciting options. These include innovative concoctions and nuanced taste profiles to suit a variety of palates. In addition, Elysian, Hi-Drip, and Humble have created a niche for themselves through their expertly crafted e-juices that provide a refreshing and indulgent vaping experience.
Jam Monster and Juice Maker are two popular choices for fruit-flavored e-liquids, while Keep it 100, Naked, and Pacha Mama boast a more diverse set of offerings. From subtle to vibrant and invigorating blends, vapers can find the perfect e-juices to match their preferred taste profiles.
Brands such as Primitive, Ruthless, and Twist are also recognized for their high-quality products, featuring a mix of classic and innovative flavors. With several options like the popular Pink No. 1 and exotic blends, they cater to a wide range of vaping preferences.
Finally, Vapetasia, Verdict Vapor, and Vapedaugz round up the extensive list of premium e-liquid brands available in Denver. Known for products like Killer Kustard and distinctive fruit-infused concoctions, these brands ensure that every vaper finds the ideal e-liquid to meet their expectations.
In summary, Denver's vape shops offer a wide array of e-liquid brands and flavors, providing ample opportunities for vapers to explore and discover their favorite blends. From fruity notes to dessert-inspired creations, there is a perfect e-liquid option for everyone.
Vape Accessories
Denver is home to a variety of great vape shops offering a wide range of vape accessories. When it comes to essential vaping components, there are three main items that stand out: tanks, batteries, and coils. These accessories play a crucial role in ensuring a satisfying and enjoyable vaping experience.
Tanks – The tank is the container that holds the e-liquid and the coil, making it a crucial part of any vaping setup. Denver vape shops, such as Denver Vapor and Going Vapes, offer an extensive variety of tanks to suit different vapers' preferences. Whether you're looking for a sub-ohm tank for impressive cloud production or a compact, sleek mouth-to-lung (MTL) tank for stealth vaping, you'll find the perfect option in Denver.
Batteries – A reliable and long-lasting battery is essential for a consistent and uninterrupted vaping experience. In Denver, vape shops like Denver Vaper provide a wide choice of batteries to fit various device models. From high-drain 18650 batteries for powerful box mods to built-in batteries for sleek pen-styled vapes, you can confidently find the right power source for your vaping device in the Mile High City.
Coils – The coil is responsible for converting the e-liquid into vapor and is a critical component of any vape setup. Over time, coils lose their effectiveness, resulting in diminished flavor and vapor production. To maintain top-notch performance, it's important to replace your coils regularly. Shops like Quick Clouds Vape and Stone Fox Vape carry a wide array of quality coils to suit different styles of vaping. Whether you're a cloud chaser seeking low-resistance coils or an MTL vaper looking for a higher resistance option, you'll find the right fit for your device at these Denver stores.
In conclusion, Denver has excellent vape shops that offer a wide range of vape accessories to cater to all sorts of preferences. With a wealth of options available for tanks, batteries, and coils, vapers can find everything they need to enjoy a satisfying and personalized vaping experience.
Popular Vape Brands
Denver vape shops offer a wide range of high-quality vape products from top brands in the market. These brands are known for their cutting-edge technology, innovative designs, and exceptional performance. Here's a brief overview of some popular vape brands you're likely to find in Denver.
Voopoo is renowned for its high-performance vape devices, such as the Drag series of mods. Their products offer users a perfect balance between power, efficiency, and aesthetics. Denver Vaper is one place where you can find Voopoo products.
Vaporesso delivers a wide range of vaping products, including stylish mods, pod systems, and tanks. The brand is well-known for its reliable and user-friendly devices, such as the Luxe series, which provide a smooth and satisfying vaping experience.
Aspire and Eleaf are also popular choices among vape enthusiasts. Aspire is praised for its high-quality clearomizers, tanks, and mods, while Eleaf is known for affordable, yet powerful devices like the iStick series.
STIG and Innokin cater to different needs of vapers. STIG offers an excellent selection of disposable vape devices for a fuss-free and convenient vaping experience, while Innokin specializes in advanced mods and tanks, such as the Coolfire series.
Suorin and Joyetech focus on providing an array of sleek and portable vape devices. Suorin's pod systems, like the Suorin Air, are popular for their compact design and ease of use. Meanwhile, Joyetech offers innovative mods, tanks, and e-cig kits with advanced features.
iJoy, Vandy Vape, and Uwell are also well-known in the vaping community. iJoy excels in producing powerful mods and sub-ohm tanks, while Vandy Vape is popular for its rebuildable tanks and mods, such as the Pulse series. Uwell is a favorite for sub-ohm tanks and devices like the Crown series.
Sigelei and Geekvape offer advanced vaping solutions for experienced vapers. Sigelei is known for its high-wattage mods and temperature control devices, and Geekvape has made a name for itself with its durable and powerful mods, like the Aegis Legend series.
In conclusion, Denver vape shops like Denver Electronic Cigarettes provide a diverse selection of popular vape brands to cater to the preferences and requirements of different types of vapers. Whether you are looking for a beginner-friendly device, a portable pod system, or a powerful mod, you can find a suitable product from these in-demand brands in the Denver area.
Cannabis and CBD
Denver is a hotspot for both cannabis and CBD enthusiasts. The city offers a plethora of weed dispensaries that cater to diverse needs and preferences. Here you'll find a wide range of cannabis products, including strains, flower, edibles, and much more.
One popular dispensary to explore is Peak, which boasts an extensive collection of top-shelf cannabis. They take pride in offering up to 50 different strains of marijuana and a vast selection of cannabis-infused edibles. Another notable dispensary to visit is the Giving Tree of Denver, which offers recreational cannabis alongside medical marijuana products.
For those looking to satisfy their taste buds while enjoying the benefits of cannabis, Denver's dispensaries also provide an assortment of edibles. These can range from classics like cherry-flavored gummies to more exquisite confections such as cannabis-infused chocolates.
CBD Products
In addition to cannabis, Denver is also home to several shops that specialize in CBD products. These can be found in various forms, such as oils, tinctures, and topicals. For example, Meadowlark64 and Hush Vapor/ CBD are well-known for their selection of quality CBD items.
Recreational vs. Medical
Denver caters to both recreational and medical cannabis users by offering dispensaries dedicated to either demographic. Recreational dispensaries typically allow adults (21+) to purchase cannabis products without the need for a medical marijuana card, while medical dispensaries require a valid card for purchase. You can find an extensive list of the best-rated dispensaries in Denver on Leafly's 2023 Edition.
Whether you're a seasoned cannabis enthusiast or just beginning to dabble in the world of weed and CBD, Denver's dispensaries cater to all experience levels and interests. From high-end buds to a variety of CBD products, the Mile High City has something for everyone.
Denver Area Recommendations
When it comes to finding the best vape shops in the Denver area, there are several options to consider. In Denver, CO, one highly-rated choice is Quick Clouds Vape, praised for its amazing customer service and a wide variety of e-liquid selections. Their knowledgeable staff can help you find the perfect electronic cigarette or upgrade your current device.
Just outside of Denver, in Aurora, you can find Stone Fox Vape, another popular vape shop offering walk-ins and a satisfaction guarantee. They carry an assortment of electronic cigarettes and e-liquids, ensuring you'll find something that fits your preferences.
For those seeking a combination of vape products and glass items, HQ Vape & Smoke in Denver has you covered. This local head shop carries both vape products and a range of glass pipes, making it a one-stop-shop for all your smoking and vaping needs.
In addition to electronic cigarettes, many vape shops in the Denver area, such as Denver Vapor, also offer a wide variety of e-liquid flavors to suit every taste. Whether you're looking for a classic tobacco flavor or something more unique, these locations have a vast selection to choose from.
Browse popular vape collections:
Overall, the Denver and Aurora areas are home to a number of high-quality vape shops, each offering a range of products to cater to the needs of both beginner and experienced vapers. Whether you're in the market for a new electronic cigarette, e-liquid, or even glass pipes, you're sure to find what you're looking for at one of these top-rated locations.
Frequently Asked Questions
What are the top-rated vape shops in Denver?
Some of the top-rated vape shops in Denver include Quick Clouds Vape, HQ Vape & Smoke, and Stone Fox Vape. These shops are known for their excellent customer service, wide range of products, and knowledgeable staff.
Which Denver vape shops offer delivery services?
Many vape shops in Denver offer delivery services for their products. To verify if a specific shop provides delivery services, it's best to visit their website or contact them directly.
Can I find a vape shop near me in Denver that's currently open?
Yes, you can find vape shops in Denver that are currently open. To ensure accurate information, it is recommended that you check the shop's website, Yelp, or Google Maps for their hours of operation.
Where can I buy disposable vapes in Denver?
Several vape shops in Denver carry disposable vapes, such as Denver Electronic Cigarettes and Vaper Jungle. It is essential to call or visit the shop's website to confirm their inventory and availability.
Are there any online vape shops based in Denver?
Yes, there are online vape shops based in Denver. Some shops have both physical locations and online stores, while others operate exclusively online. To find local online vape shops, it's helpful to search for "Denver online vape shops" or visit the websites of popular Denver-based vape shops to see if they offer online shopping.
What should I look for when selecting a vape shop in Denver?
When selecting a vape shop in Denver, consider factors such as product selection, customer service, staff knowledge, and reviews from previous customers. Additionally, verify the shop's reputation, location, and whether they offer services such as delivery or online shopping. Taking these factors into account can help you find the right vape shop to suit your needs.
Resources: